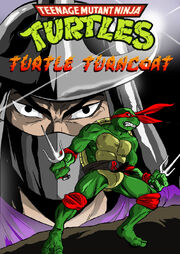 Turtle Turncoat is a four-issue TMNT webcomic illustrated by Tony Day
It is a significantly darker and edgier story based on characters from the original 1987–1996 animated TV-series version.
A brutal falling out between brothers sees Raphael joining forces with the Turtles' archrival Shredder, who soon rebels against Krang and unleashes The Technodrome and a new breed of Foot soldier at the known world.
Ad blocker interference detected!
Wikia is a free-to-use site that makes money from advertising. We have a modified experience for viewers using ad blockers

Wikia is not accessible if you've made further modifications. Remove the custom ad blocker rule(s) and the page will load as expected.